The Panchromatic Hubble Andromeda Southern Treasury (PHAST) survey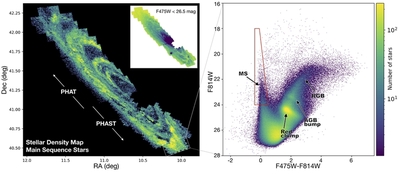 This Panchromatic Hubble Andromeda Southern Treasury (PHAST) survey is creating a legacy map of M31's southern star-forming disk (Chen et al., in prep) with photometric observations from the Hubble Space Telescope (HST), covering both optical (F475W, F814W) and near ultraviolet (F275W, F336W). As the closest large metal-rich spiral to the Milky Way, M31 offers a unique laboratory to resolve stars in the disk to study star and galaxy formation and evolution. The PHAST survey, spanning ~13 kpc along the southern major axis, covers regions structurally unique and more indicative of merger history than the northern disk, as mapped in the completed PHAT program. The survey includes 195 orbit visits, totaling 1,560 exposures. 98% of the PHAST observations are now complete.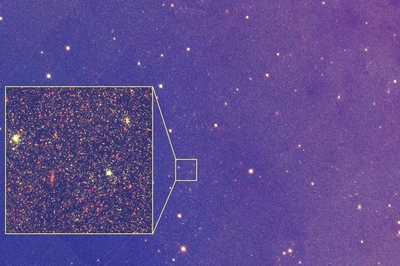 I have measured photometry for over 100 million resolved stars in M31, employing simultaneous point spread function (PSF) fitting with DOLPHOT across all bands and source positions with precise astrometry. Photometry is refined using quality criteria, with stars that pass the metric displaying distinct features on the color-magnitude diagram (CMD, Figure 1). In the uncrowded outer disk, photometry reaches F275W~25, F336W~26, F475W~28, and F814W~27. Alongside the PHAT legacy catalog, these datasets cover the entire galaxy (Figure 1), creating the largest catalog ever for over 200 million equidistant sources, soon available to the public.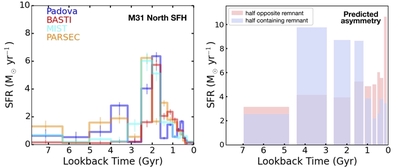 I am currently investigating the ancient and recent star formation history of M31's southern disk, which covers key diagnostic features indicative of its merger history, including intersections with M32, the giant southern stream, the splitted star formation ring, and southern bar. Competing merger history models for M31 suggest distinct stellar population signatures. Illustris simulations of an M31 analog suggest that if a major merger occurred 4 Gyr ago, one disk half would exhibit a significant star formation burst between 2 - 4 Gyr ago, as seen in PHAT, while the other wouldn't (Figure 3). This burst would create discernible CMD features with a significance over 10σ. My work involves spatially mapping the southern disk's star formation history by fitting the observed CMDs to stellar evolution models using the MATCH code. Additionally, we are developing a novel method to construct the large-scale dust geometry using only the PHAST optical catalog. This comprehensive star formation history mapping will reveal any existing asymmetry and determine the timescales of merger scenarios throughout the disk, providing observational constraints of the impact of mergers on disk formation and evolution.